230v Water Pumps - Submersible Water Pump - Hippo4A. Or choose from our selection of 110v, 400v, diesel driven, gear drive, shaft drive, PTO drive, hydraulic or petrol driven water pumps. UK delivery.
Submersible Water Pump - Hippo4A
Clarke's efficient electric powered water pump is perfect for draining and transferring water in many different domestic situations. For example you could use it for operating garden waterfalls & fountains, keeping ponds aerated and healthy, irrigating gardens, draining cellars or emptying blocked sinks, cisterns or baths. And the fitted float switch means it switches on and off automatically as the water level rises and falls.
7230535
Max. flow rate 100 L/min
Maximum head (lift height) 5.5M
Durable & corrosion resistant
Auto start / stop float switch
Motor overload protection
1¼" hose adaptor & 10M waterproof cable
214 Watts, 230v 1ph motor
water pump order code : R092.1007 view prices
fittings (BSP thread) view prices
hoses view prices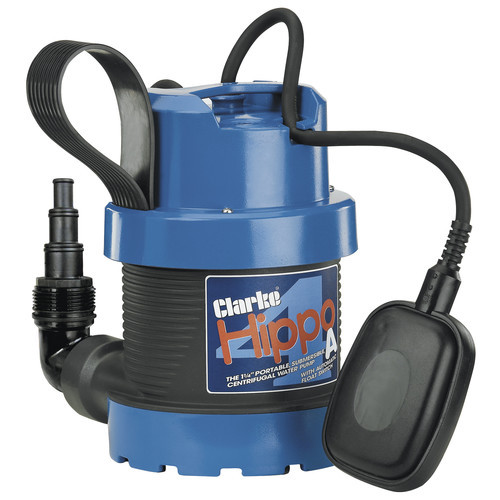 Back to water pumps home page