Hydraulic Driven Water Pumps - Hydraulically powered - 150 to 300 bar. Or choose from our selection of 110v, 230v, 400v driven, diesel drive, shaft drive, PTO drive, gear or petrol driven water pumps. UK delivery.
Hydraulically Powered Water Pumps - 150 to 300 bar
HWB are industrial pumps containing three axial plungers and unique synchro drive unit that directly and continuously transforms the available power in your hydraulic system into water.

The compact one-piece design couples a powerful hydraulic drive to a professional grade plunger pump capable of pressures up to 300 Bar and flows to 30 Lpm.

The self-contained drive unit is continuously lubricated by the hydraulic system, requires no oil changes or regular maintenance and eliminates the need for an auxiliary hydraulic motor.
Durable forged brass manifold
Unitised valve assemblies
Long life low and high pressure seals
Trapped pressure unloader valve
3/4 BSPM water in 3/8 BSPF water out
1/2 BSPF hydraulic ports
3/8" BSPF by-pass port
Max oil 80 degrees C - water 65 degrees C
Max oil pressure 250 Bar
L = 270mm, W = 125mm, H = 121mm
Weight - 8.8Kg
| | | | | |
| --- | --- | --- | --- | --- |
| Part no | Hydraulic Oil Lpm | Hydraulic Oil Bar | Water Lpm | Water Bar |
| HWB30150 R092.3055 | 23 | 250 | 30 | 150 |
| HWB25200 R092.3056 | 25 | 250 | 25 | 200 |
| HWB16250 R092.3057 | 25 | 206 | 16 | 250 |
| HWB12300 R092.3058 | 25 | 170 | 12 | 300 |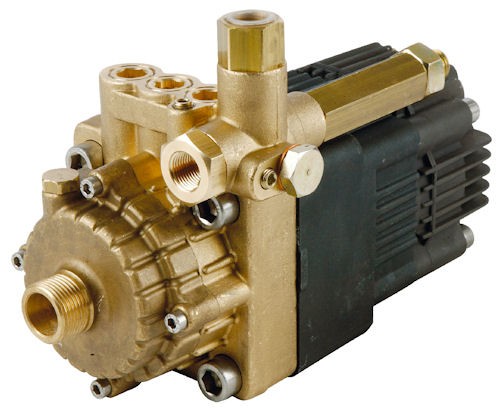 Back to water pumps home page